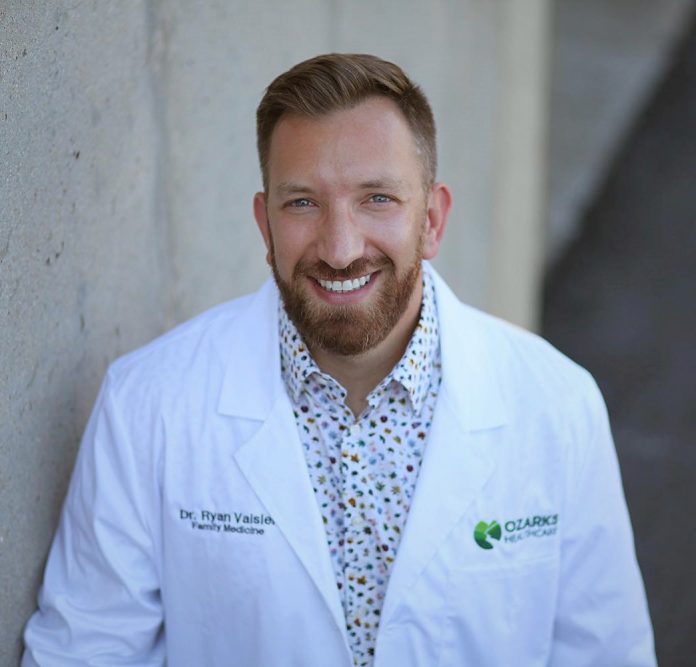 West Plains, MO. – Ozarks Healthcare recently welcomed Dr. Ryan Vaisler, a board-certified family physician, joined Ozarks Healthcare Family Medicine as a new provider. Vaisler joins healthcare providers Dr. Joseph Bernard, dr. Samuel Evans and Dr. Jen Lambert in providing compassionate, coordinated primary care supported by the total resources of the Ozarks Healthcare system.
"The recent addition of Dr. Vaisler to our family medicine team is a tremendous asset to our health system and community," said Tom Keller, President and CEO of Ozarks Healthcare. "With a greater need for expert primary care, Dr. Vaisler's experience and skills, especially with his rural healthcare experience, will benefit our patients in receiving the care they need close to home."
Vaisler completed his education at Louisiana State University School of Medicine, New Orleans, in Lake Charles, Louisiana. He received his Doctor of Medicine (MD) from St. Matthew's University School of Medicine on Cayman Island. He also holds a Bachelor of Science in liberal arts from Douglas College in New Westminster, British Columbia, Canada.
Growing up, Vaisler's father was a surgeon, and he always felt he wanted to study medicine as well. But it was an experience during his freshman year of college that solidified his calling. He traveled to Ecuador that summer to work in a rural community and loved it. He then returned for summers to continue caring for the rural population and learned Spanish.
On the decision to pursue the family medicine specialty, Vaisler said, "Everything about medical school interested me; surgical procedures, primary care, inpatient care. Family medicine was the field in which I could treat a wide variety of medical problems. I realized that choosing the specialty that best suited me would ultimately translate into the best care for my patients."
Vaisler moved to West Plains with his wife, Dr. Karen Johal, a pediatrician who joined the Ozarks Healthcare Pediatric Clinic. He says they had been looking at bigger cities, but an email from Ozarks Healthcare caught their attention, and after a good chat and subsequent visit to West Plains, they knew they had found their new home.
"We fell in love on the first night," Vaisler said. "Everyone has been so nice and welcoming. The clinics are going great, and we enjoyed finding many more specialties here than we thought. It went well."
The newlywed couple plans to settle into their new home, pursue their love of the outdoors and explore more of what the Ozarks have to offer.
Vaisler is taking on new patients. A referral is not necessary. Contact Ozarks Healthcare Family Medicine at 417-257-5911 for more information. Ozarks Healthcare Family Medicine Clinic is located at 181 Kentucky Ave. (Highland Park) in West Plains and is open Monday through Friday from 8 a.m. to 5 p.m.
For more information on Ozarks Healthcare family medicine services, visit https://www.ozarkshealthcare.com/services/family-medicine/.